Happy New Year everyone! I hope everyone had a great holiday season ;) Congratulations to you if you were engaged over the holidays!! Whether you are newly engaged and looking for ideas, or already engaged and have a wedding fast approaching, Yvonne (me...lol) has the latest in HOT trends in-store for this year! In this blog post we focus on 3 trends we are seeing at shows, recent events and all over the internet:
Rustic, Opulent & Romantic!
Back to Basics...
Rustic
is a keyword in style this year, meaning going back to simplicity, going back to the heartland...making use of materials such as burlap, twine, raffia, wood and bamboo. Take a look at these pictures I picked up throughout the internet showing the use of these simple materials in various wedding elements, from twine tied around a bouquet of flowers to burlap on a wedding cake.
Here is an example of a very practical favor that we offer on our website that can easily blend in to this rustic theme. It is a
natural bamboo set of coasters
that is eco-friendly. It comes tied in raffia with a tag included. These are as low as $1.50 per a favor set of 4 coasters and fits in perfectly into this "back-to-basics" theme.
The irony in this rustic trend is that it is also seen combined with opposite touches of opulence and riches such as rhinestones, sequins and crystal. Here is another picture I picked up from the web. It features an elegant setting with simple white chairs in burlap sashes, alongside a table adorned in rhinestone-accented candles. Again, simplicity mixed with opulence with just the right touches...goes a long way in 2012!
Crystal and Chandeliers...
Speaking of crystal...chandeliers and sequin embellishments also happen to be very big in 2012. We see lots of crystal touches, especially with the use of chandeliers throughout, such as in this elegant table setting below. Whether you use real or faux crystal touches, the look and feel opulence is prevalent.
This theme is also seen in other details such as favors, completing the glamour of the day. Look at this
elegant crystal votive holder
that we offer here, on
Yvonne's Invitations & Favors.
As low as $3.50 per favor, this multi-faceted votive holder, will shine brilliantly on your tables!
Silhouettes of crystal chandeliers are seen throughout
invitations
and in
favors
. This is just one of the invitations carried on our
Yvonne's Invitations & Favors
website, fittingly called
"Fancy Chandelier."
This is a shimmery invitation in gold which creates the feel of richness.
Here is one of our
chandelier-themed favors
, which is personally one of my favorites.
Mirror-glassed coasters
are not just practical favors but can also serve to light up every reception table with their reflection, in the way they are openly packaged.
Romance through Lace...
Romance is seen this year in a way it has not been seen in recent years. It is the big dream of
fairy-tale romance
that accentuated this year with lots and lots of lace, ruffles, scalloped decor. We hear the words "Royalty", "Victorian", "Dramatic" and "Fairy-tale" used to describe wedding fashion, especially this year.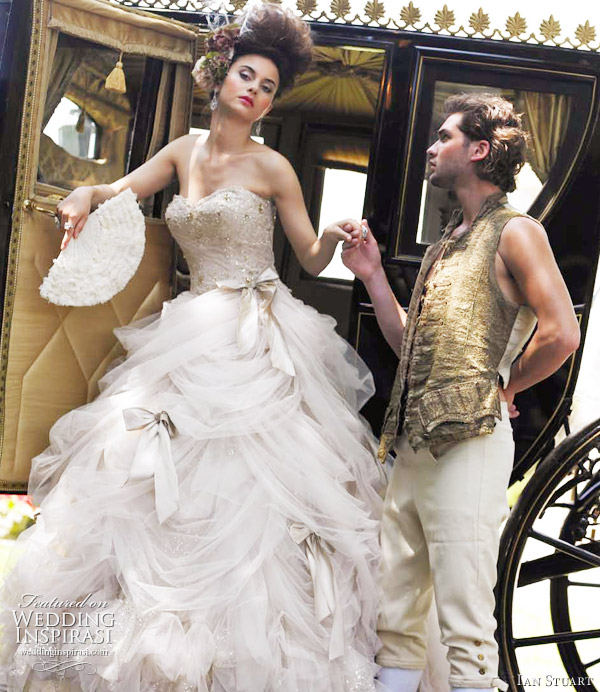 To create this feel from the very beginning, send out extravagant invitations such as this one we carry below, called
"Vintage Gold."
This invitation with its gold-shimmer touches will set the perfect tone for your romantic or
vintage wedding.
For more information on how to create any of these looks for your wedding or next event, whether big or small, please contact Yvonne at invitationsbyyvonne@gmail.com