Spring is just around the corner and as the
weather starts to warm up so will your social calendar with religious celebrations like Baptisms, First Holy Communions, Confirmations and Bar/Bat Mitzvahs. Many of the most important religious holidays happen in the spring and it is a season for spiritual celebration.
At
Yvonne's Invitations & Favors
, religious celebrations hold a special place in our heart. We have a great selection of some really simple and elegant collections for you to choose from for your extra special son or daughter.
Every successful social event begins with the invitation. The invitation provides important information and sets the tone for the celebration and lets recipients know you are paying attention to detail...here are just a fee examples of invitations we carry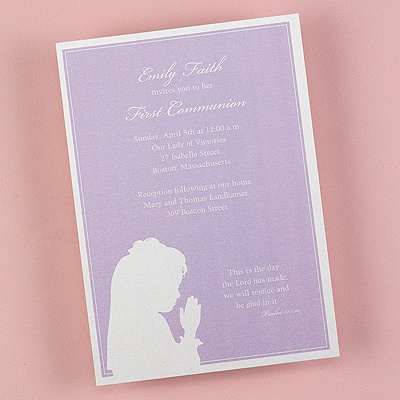 The Sacred Prayer - Purple Shimmer Invitation
Use this purple and white shimmer card for your daughter's first communion. A silhouette of a girl is portrayed at the bottom. (Available in Blue for Boy as well).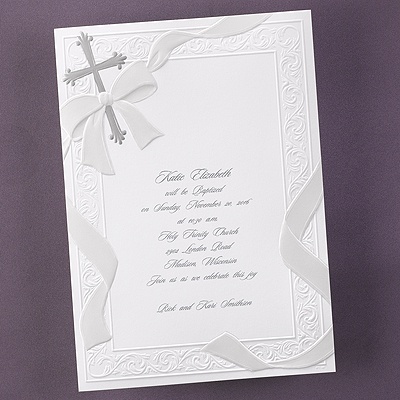 Help Us Celebrate - Silver - Announcement
A beautiful and elegant announcement. Pearl embossed ribbon features your invitation wording and holds the silver foil cross on this bright white card. Also perfect for baby announcements!
(Available in Gold as well).
Angel from Heaven - Shimmer Invitation
This white shimmer card features a baby with angel wings on it's back. It can be used for a birth announcement or a baptism.
Bar/Bat Mitzvah
: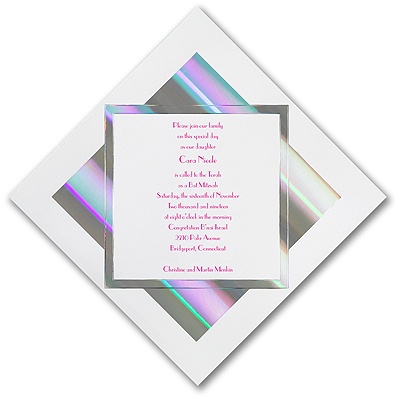 Mirror Square - Invitation
This bright white, square, card invitation features a brilliant silver shine! A special day requires a special invitation.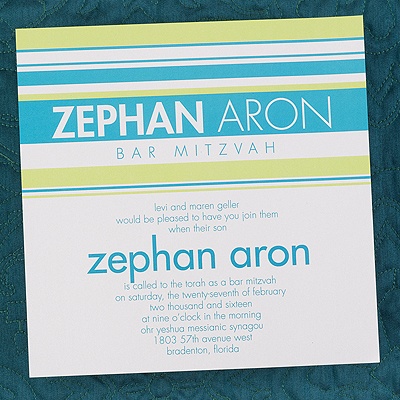 Blue Stripes - Invitation
Gets your guests excited with this oversized invitation and take it over the limit!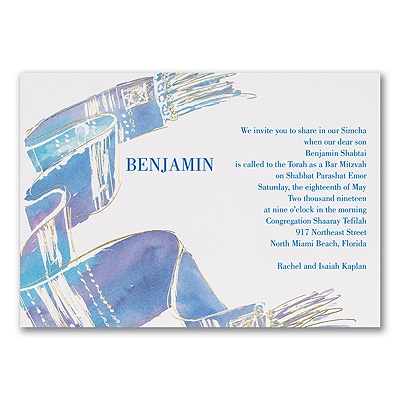 Blue Tallit - Invitation
Invite friends and family to celebrate as you are called to the Torah with this white invitation card featuring a colorful Tallit in blue and purple with accents of gold.
Every successful social event ends with a thoughtful favor. Favors leave your guests with a take-away memory and are a symbol of your appreciation.
Religious Favors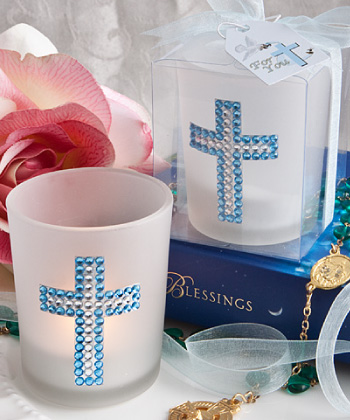 Bling Collection Cross Candle Favors -

Boy
As you prepare to celebrate his Christening, First Communion or another faith-inspired event in your son's young life, you want to share a memento that respectfully honors the important role that Christianity plays in your family. Glowing with its flame and its glistening representation of the cross, this Fashioncraft-exclusive candle is a great way to mark a holy day!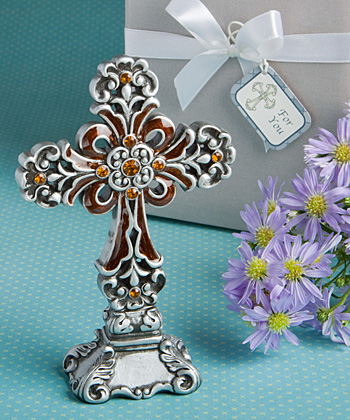 Pewter Color Cross Statue With Ivory Enamel Inlay
This exquisite cross makes a favor that brings reverence and joy to any Christian occasion
This beautiful favor takes the cross - the most treasured symbol of the Christian faith - and gives it an ornate elegance that is sure to capture the joy shared on your special day. From Fashioncraft's outstanding collection of Christian favors, this cross shines with glistening rhinestone enhancements and accents in amber - a color symbolic of spiritual energy.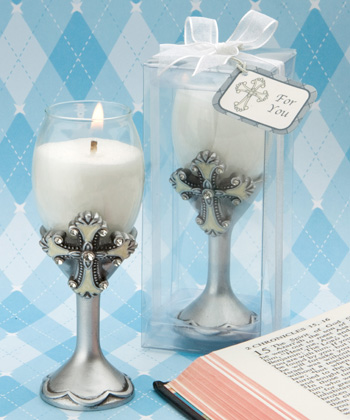 Cross Design Champagne Flute Candle Holders
Inspirational and divine, these cross design champagne flute candle holders are toast-worthy favors with elegant style . Inspired by the need for Christian-themed favors with flair, Fashioncraft proudly offers these unique candle holders. Elegantly crafted in the shape of a champagne flute and reverently decorated with a beautiful classic cross, each favor is truly a masterpiece fit for a blessing-filled big day!
These beautiful favors are only available at our Hicksville, NY retail store. Come in and see them in person!
As always, all of our invitations and favors are customizable for your special religious event. Visit our online store
http://yvonnesinvitationsandfavors.com
to shop by Brand, Theme, Trend, or Color!
Congratulations and Mazel Tov!
Yvonne's Invitations & Favors
252 W. Old Country Road,
Hicksville, New York 11801
Office: (516) 932-9600
Call us for an Appointment Today!